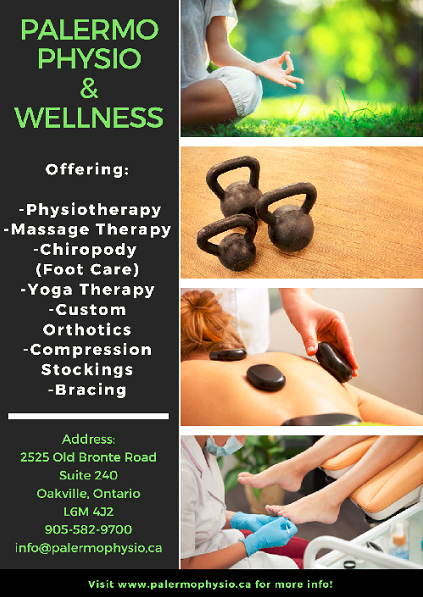 Palermo Physiotherapy and Wellness Centre strives to deliver superior quality, evidence-based, hands on Physiotherapy, Massage Therapy, and Chiropody (Foot Care) to the Oakville area. With a patient-centered approach, our mission is working as a team to assist patients in reaching and maintaining their maximum level of function. Palermo Physiotherapy and Wellness Centre is a multidisciplinary clinic located in the new medical building at the intersection of Dundas Street and Old Bronte Road (FREE parking). We offer direct billing to most insurance companies for physiotherapy & massage therapy services.
Hours of Operation:
Monday 9:00am – 8:00pm
Tuesday 8:00am – 8:00pm
Wednesday 9:00am – 8:00pm
Thursday 8:00am – 8:00pm
Friday 9:00am – 6:00pm
Saturday 9:00am – 2:00pm
Physiotherapy
Pre & Post Operative
Sports Injuries
Accident Injuries
Musculoskeletal Injuries
Fall Prevention
Plantar Fasciitis
Chronic Pain
Sciatica
Pediatric Conditions (Delayed walking, torticollis)
Registered Massage Therapy
Swedish Massage
Deep Tissue Massage
Trigger Point Massage
Prenatal Massage
Sports Injury Massage
Hot Stone Massage
Chiropody
Custom Orthotics Assessment (Biomechanical & Gait Analysis)
Diabetic Foot Care
Seniors Foot Care (Ask for seniors pricing!)
Wart Removal
Ingrown Nail Removal
Tendon Surgery
Pediatric Footcare
Products
Compression Stockings
Braces (Knee, Back, Elbow, Wrist etc.)
Custom Orthotics (using plaster casting)
TENS Units
Yoga Products (Mats, wedges, blocks etc).
Palermo Physiotherapy & Wellness
2525 Old Bronte Road, Suite 240
Oakville, Ontario L6M 4J2
905-582-9700
www.palermophysio.ca