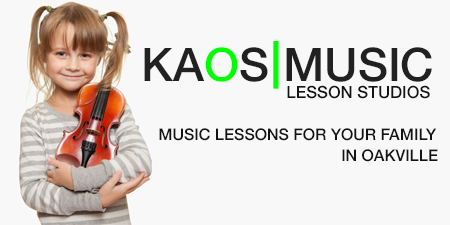 KAOS Music taught its first music lesson back in 1989 when it opened its store/school in Toronto. We've always believed in the notion that learning to play an instrument is good for people, especially young people. More recently, formal research has definitely linked learning a musical instrument with improved spatial and mathematical skills in people of all ages but again, especially among the young. Not only does learning music help develop your brain, its soul nurturing and just plain fantastic. We love the effect that music has on peoples lives and feel fortunate to have the opportunity to share this knowledge and ability with others. It is from this prospective that we deliver our lessons, individually tailored to each student. Our lessons focus on two main things: proper fundamentals and fun. One without the other doesn't work and never achieves the desired goal of good musicianship. When combined however, students enjoy their lessons which leads to higher motivation to practice which in turn leads to better results. When good quality lessons are fun, the results are always positive.
We offer private lessons in piano, guitar, ukulele, mandolin, violin, bass, voice, woodwinds and trumpet. We also offer adult specific guitar classes for beginners.

We have two locations in Oakville. In the south/east our studio is in the Maple Grove Village Mall (the Sobeys Mall) at the corner of Maple Grove and Cornwall. In the north/west our studio is in the new Fortinos mall at the corner of Dundas St W/Neyagawa. This studio is on the second floor directly about the Animal Vet Clinic in building 483 unit 219.

For more information please feel free to call (289) 813-3234 or email us: info@kaosmusicoakville.com
More information is available from our website at www.kaosmusicoakville.com