Effective January 1, 2017, the maximum amount of Land Transfer Tax (LTT) refund for first-time homebuyers will double from the previous maximum $2,000 to $4,000. This increased limit will apply to conveyances that occur on or after January 1, 2017, regardless of the date of the agreement of purchase and sale.

Effective January 1, 2017, no LTT is payable by qualified first-time homebuyers on the first $368,000 of the value of consideration of eligible homes. For conveyances or dispositions that occur before January 1, 2017, the maximum amount of the refund is $2,000.

If the purchase price of an eligible home is greater than $368,000, the first-time homebuyer can receive a maximum refund of $4,000. It is estimated that more than half of first-time homebuyers in Ontario will benefit and pay no LTT.

Restrictions to the First-Time Homebuyer's Refund Program
Effective January 1, 2017, the government is also restricting the eligibility of the first-time homebuyer's refund program to Canadian citizens and permanent residents only.
Purchasers who entered into agreements of purchase and sale on or before November 14, 2016 would remain eligible for the refund regardless of their citizenship or residency status. Purchasers have 18 months following the registration of conveyance to become eligible for the refund program by obtaining Canadian citizenship or permanent resident status.
The purchase or sale of a home is one of the most important transactions most people deal with. It is important to have the right team of professionals involved from the beginning of your transaction to ensure the correct guidance and advice is received. Should you require any assistance with your real estate matters,
contact M. Bains Legal Professional Corporation at; 289.681.0944 or www.bainslegal.ca and we will be happy to serve you.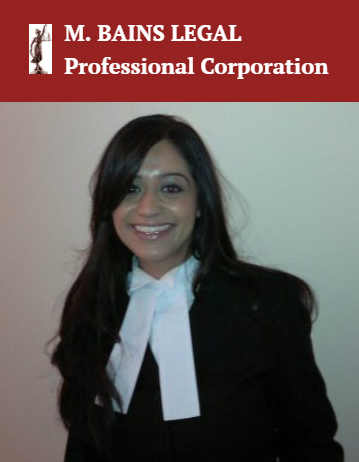 For further information please contact:
M. Bains Legal Professional Corporation
Email: mandip@bainslegal.ca
Phone: 1-289-681-0944
Web site: www.bainslegal.ca